Kitting & Hand Assembly
Efficient, Accurate and Timely compilation of your assets and projects.
Kitting and hand assembly are growing increasingly important as companies recognize the opportunities they present to leave a lasting impression on customers
and partners.
The challenge is finding a provider who can differentiate your company's orders while maintaining the efficiency and cost-effectiveness that is associated with kitting and hand assembly services.
Create a lasting impression while saving time and money
We understand that for many companies the customer experience is limited to what happens in the customers' home. From the time it takes for an order to arrive, to the presentation of the items inside the box, to the little extras—like thank you notes or product samples—all of it impacts the customer experience. We make sure that everything comes together to provide the experience you want to deliver.
We provide kitting and hand assembly services for clients throughout the U.S. and distribute items anywhere in the world according to a schedule or on-demand. We provide both on-demand kitting and assembly services, as well as pre-assembly services in which our packaging team compiles individual products into ready-to-ship sets. All items and pre-assembled kits are stored in our climate-controlled warehouse until it's time to process an order on your behalf.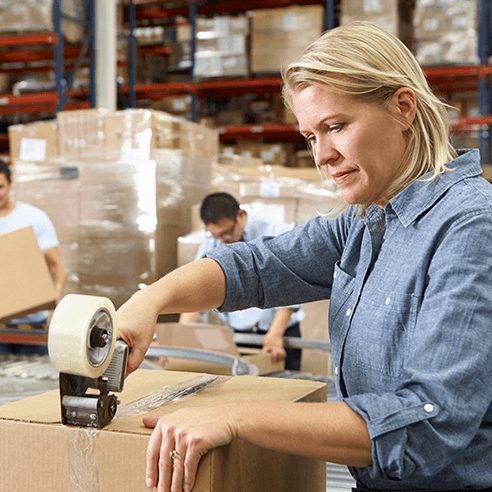 Customized for your products
The Brooks Litho & Digital Group packaging team provides kitting and hand assembly services for a variety of products, including promotional materials, media kits, product samples and instructions, CDs and DVDs, display and demo materials, and more. Our kitting services include package design and engineering. We can create custom packaging for your product and source the materials you need to ensure its protection, such as shrink wrap, bubble-mailers and blister packs. Our team will also individually wrap fragile or breakable items that require extra protection to ensure their safe arrival.
We handle the entire fulfillment process, freeing you to focus on other areas of the business. However, we know that visibility is important. Clients using our kitting and hand assembly services have access to our inventory management system, where they have real-time access to inventory levels and reporting. You get all the information you need, while delivering a unique customer experience without laying a single finger on a package.
We take special care to ensure that every set is accurately assembled and that orders are fulfilled in a timely manner.
Yasmin
Interior Design Magazine
Many, many thanks for being so attentive.  Always so great working with you and we do appreciate that we can always depend on you and your team.
Karen
Canon USA
I've been working with Brooks Litho & Digital for over 15 years and it is for one simple reason…I'm too busy to worry once jobs are sent off to my printing vendors.  I know with Brooks the job will be produced on time, on budget and most importantly with the highest quality.  The entire staff is a pleasure to work with and you can see they are all focused on one thing…customer satisfaction!
Irene
APA
We have used Brooks Litho for all of our advertising, printing and mailings for many years now. We value their service and the care they demonstrate with all of the projects that they produce for us. Brooks Litho's expertise and knowledge has proven to be invaluable to our company.
Marguerite
Metrohm USA, Inc.
We haven't found one printer that can even come close to doing the work Brooks Litho does for us. They go above and beyond just printing a brochure, poster or direct mail piece. They troubleshoot and alert us to potential problems that could affect output or compromise our press date; they help us strategize, design and bring to life eye-catching campaigns and point of purchase pieces; they can juggle and meet deadlines that no other printer can even come close to.
Brett
HarperCollins Children's Books
When I send a job to Brooks Litho, I know I am not only going to get a beautifully printed piece, I am going to get the best customer service there is. I love that I can send them a job and I don't have to worry about a thing.
Keith
Eppendorf North America
Brooks Litho & Digital Group has been a key contributor to our success for more than 10 years. They have provided us with an extremely high level of printing, an astute attention to detail and a pleasant demeanor all while maintaining the quickest turnaround time that we could possibly ask for.
CALL US TODAY AT (631) 789-4500 OR CONTACT US ONLINE FOR MORE INFORMATION OR AN ESTIMATE.